Bullseye Crack Shot
is a shooting game from
Ace Amusement
.
In this game, the emphasis is on precision, cold blood and speed of execution. The player's nerves are put to the test throughout the 6 challenges proposed (shooting at targets, cans, enemies, ...).
At the beginning of a game, the player has a certain number of bullets when he has no more he has to give a credit, so it is in his interest to shoot at the right time and not in a hurry to save credits.
There are 3 selectable levels of difficulty.
Two cabinets can be linked so that two players can compete and compare their performances.
A redemption mode is available as an option.
Bullseye Crack Shot
was present on
UDC
stand at
EAG 2023
.
-------------------------------------------------------------------
Bullseye Crack Shot
est jeu de tir de
Ace Amusement
.
Dans ce jeu, l'accent est mis sur la précision, le sang froid et la rapidité d'exécution. Les nerfs du joueur sont mis à rude épreuve tout au long des 6 différents défis missions proposées (tirs sur des cibles, des canettes, des ennemis,... ).
Au début d'une partie, le joueur dispose d'un certain nombre de balles quand il n'en a plus il doit remettre un crédit, il a donc intérêt à tirer au bon moment et pas dans la précipitation pour épargner les crédits.
Il y a 3 niveaux de difficultés sélectionnables.
Deux bornes peuvent êtres reliées pour que deux joueurs s'affrontent et comparent leurs performances.
Un mode redemption est disponible en option.
Bullseye Crack Shot
était présent sur le stand d'
UDC
à l'
EAG 2023
.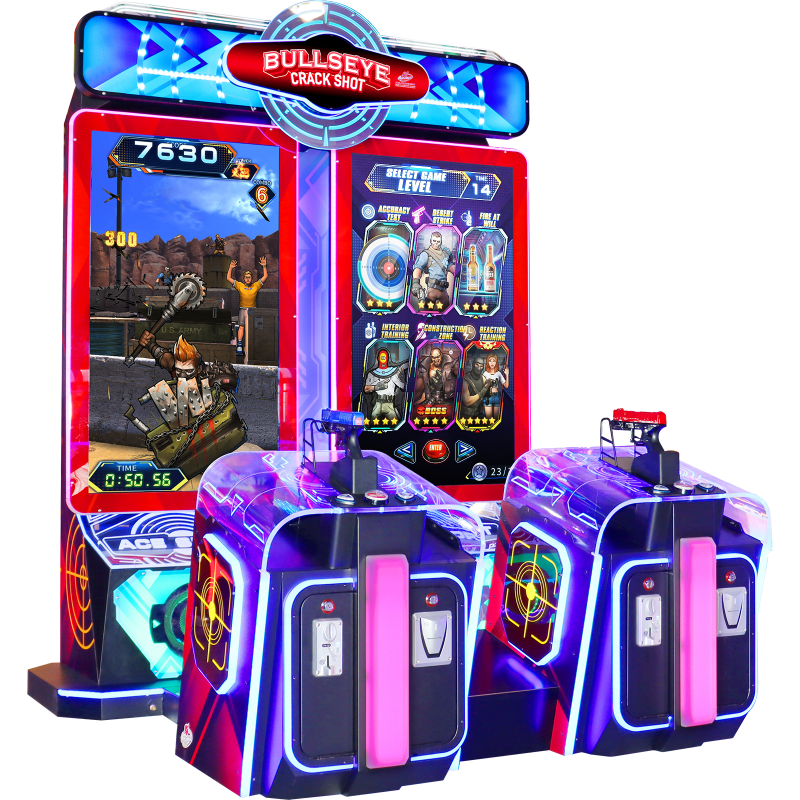 Bullseye Crack Shot
@
EAG 2023