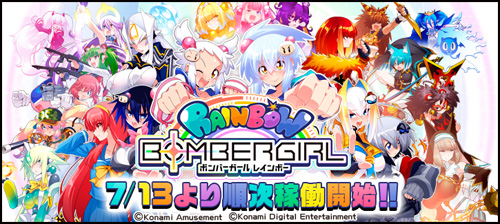 Bombergirl Rainbow
is available since July 13th.
- A new character is available: Platinum (Bomber type), she can hold a lot of bombs. There is a total of 22 girls already available: 6 Bomber, 5 Attacker, 6 Shooter and 5 Blocker.
- The online battle maps from the console version are added: Karakuri Castle 3, Hieres Village (melting snow) and Panic Island 6.
- There are also some changes in class and rank: the Grand Master is now "Grand Master C" and the girls rank has been raised to 135.
- In single battle, you can now rent and use a Bombergirl that you have not acquired but her rank will not increase if you win.
- The Startup Stamp, which collects stamps for each play, has been renewed, making it easier to acquire characters and items.
-Some adjustements are made to battle and skills.
- If you play the updated version, you will not be able to play the previous version. But a all data will be carried over.
---------------------------------------------------------------------------------------
Bombergirl Rainbow
est disponible depuis le 13 juillet:
- Une nouvelle Bombergirl est disponible: Platinum (type Bomber), elle peut porter beaucoup de bombes. Il y a un total de 22 filles déjà disponibles : 6 Bomber, 5 Attacker, 6 Shooter et 5 Blocker.
-  Les maps en ligne de la version console sont ajoutées : Karakuri Castle 3, Hieres Village (neige fondante) et Panic Island 6.
- Il y a aussi quelques changements de classe et de rang : le Grand Master est maintenant le "Grand Master C" et le rang des filles a été augmenté à 135.
- En combat single, vous pouvez désormais louer et utiliser une Bombergirl que vous n'avez pas acquise, mais son rang n'augmentera pas si vous gagnez. Le Startup Stamp, qui permet de collecter des timbres à chaque partie, a été renouvelé, ce qui facilite l'acquisition de personnages et d'objets.
- Quelques ajustements ont été apportés aux combats et aux compétences.
- Si vous jouez à la version mise à jour, vous ne pourrez plus jouer à la version précédente. Mais toutes les données seront transférées.