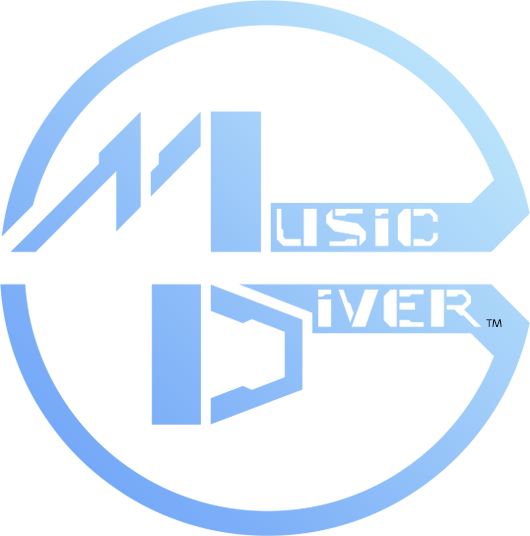 Taito
announced a new arcade game named
MUSIC DIVER
scheduled to start operation this winter.
Location tests will be held from May 27th to 29th:
-
Round1 Yokohama Station West Exit Store
-
Round1 Stadium Sennichimae Store
(Osaka)
MUSIC DIVER
is a musical game that uses 2 stick to hit two types of input areas: the screen device and the edge device that surrounds it. Each is divided into upper, lower, left and right and there are a total of 8 locations.
During play, notes appear from the center of the screen according to the music and flow toward the outer circumference, so if you hit the input area specified when the judgment line is reached with the stick at the right time, the input will be successful.
Each song has four different levels of difficulty: "EASY", "NORMAL", "HARD", and "EXTREAM".  The songs are divided into 12 levels from 1 to 12.
The biggest feature of this game is the "Create Dive" mode. In this mode, you can freely arrange the notes of the song and create a musical score ofyour choice, and you can change the instrument that sounds when you hits it. The created musical score can be saved on the amusement IC card, and can be uploaded to the server and shared with other players.
----------------------------------------------------------------
Taito
a annoncé un nouveau jeu d'arcade nommé
MUSIC DIVER
dont la sortie est prévue pour cet hiver.
Deux locations tests auront lieu du 27 au 29 mai :
-
Round1 Yokohama Station West Exit Store
-
Round1 Stadium Sennichimae Store
(Osaka)
MUSIC DIVER
est un jeu musical qui utilise 2 bâtons pour frapper deux types de zones d'entrée : l'écran et le bord qui l'entoure. Chacune est divisée en quatre partie: haut, bas, gauche et droite. Il y a donc un total de 8 emplacements.
Pendant le jeu, les notes apparaissent du centre de l'écran en fonction de la musique et se dirigent vers la circonférence extérieure, donc si vous touchez la zone de saisie spécifiée lorsque la ligne de jugement est atteinte avec le bâton au bon moment, la saisie sera réussie.
Chaque chanson a quatre niveaux de difficulté différents : "EASY", "NORMAL", "HARD" et "EXTREAM".  Les chansons sont divisées en 12 niveaux de 1 à 12.
La plus grande caractéristique de ce jeu est le mode "Create Dive". Dans ce mode, vous pouvez arranger librement les notes de la chanson et créer une partition musicale de votre choix, et vous pouvez changer l'instrument qui retentit lorsque vous frappez la note. La partition musicale créée peut être sauvegardée sur la carte IC et peut être téléchargée sur le serveur et partagée avec d'autres joueurs.
Website:
https://musicdiver.jp/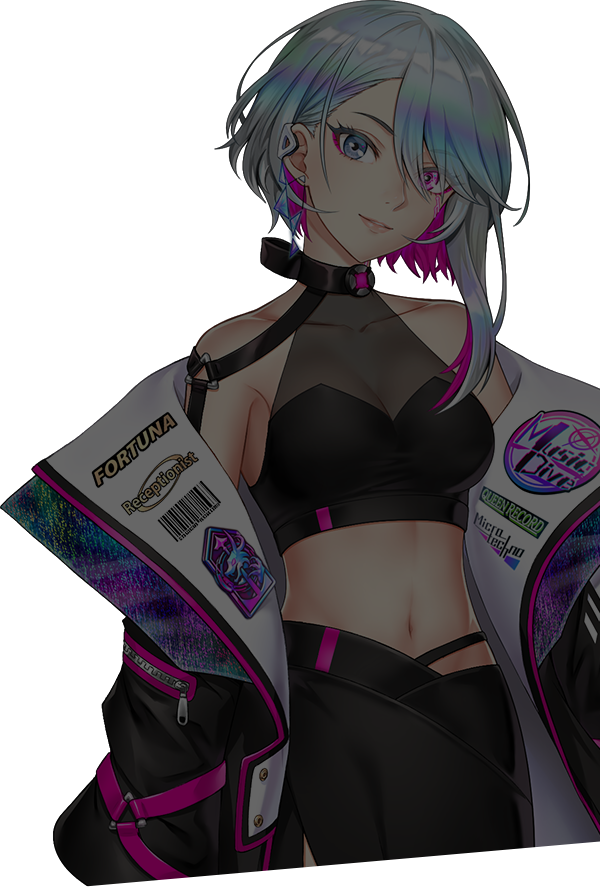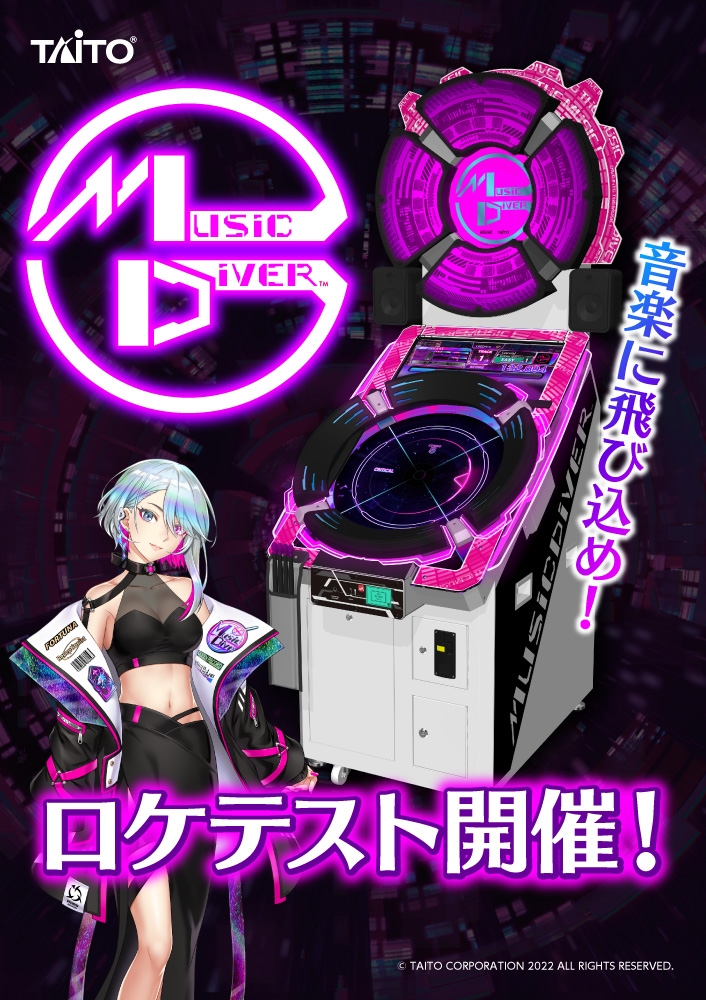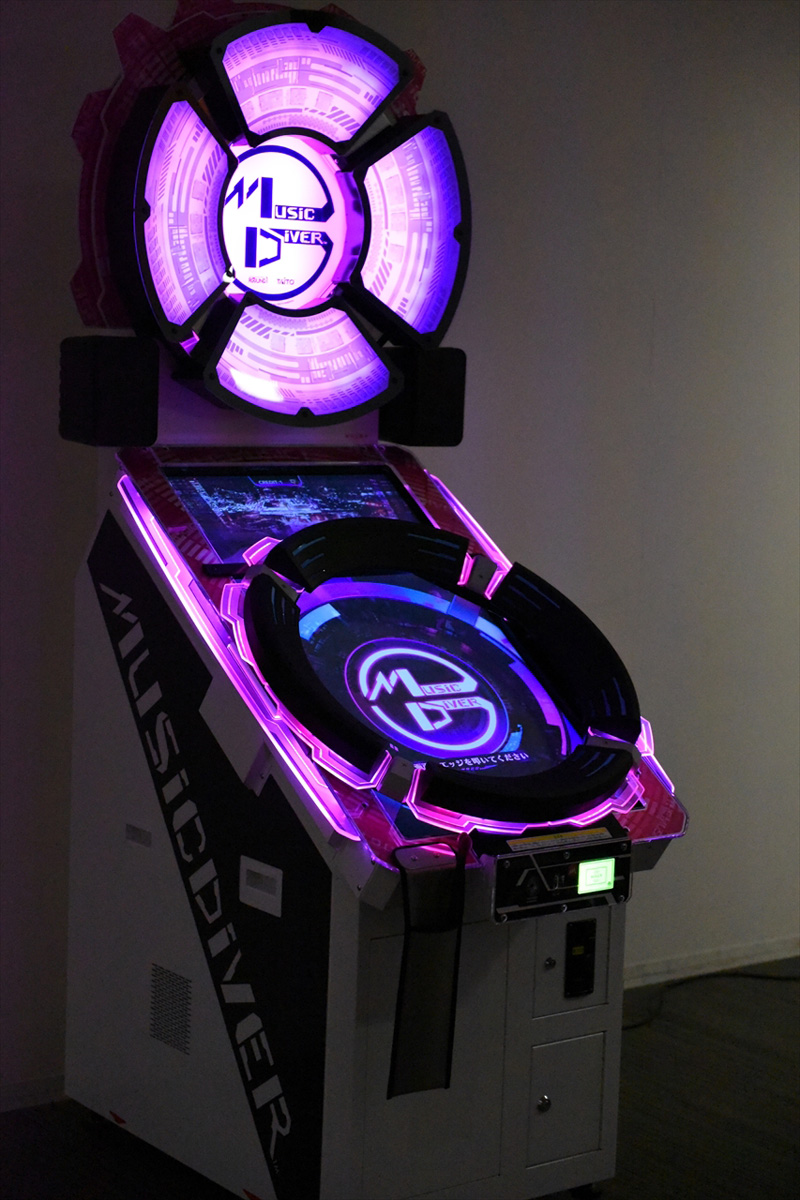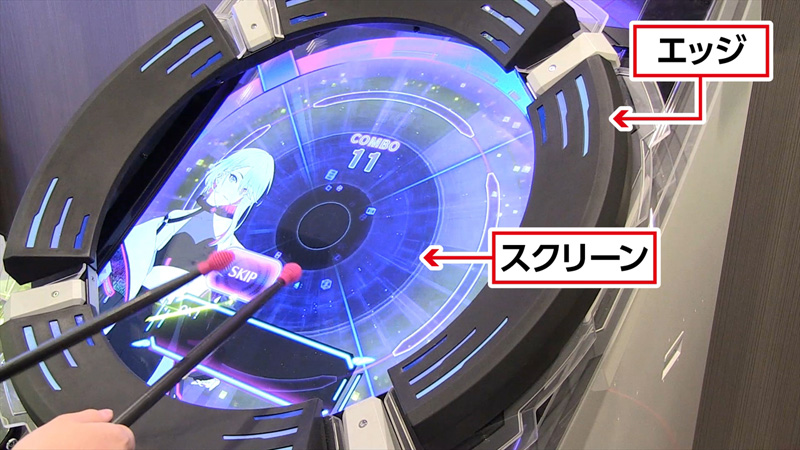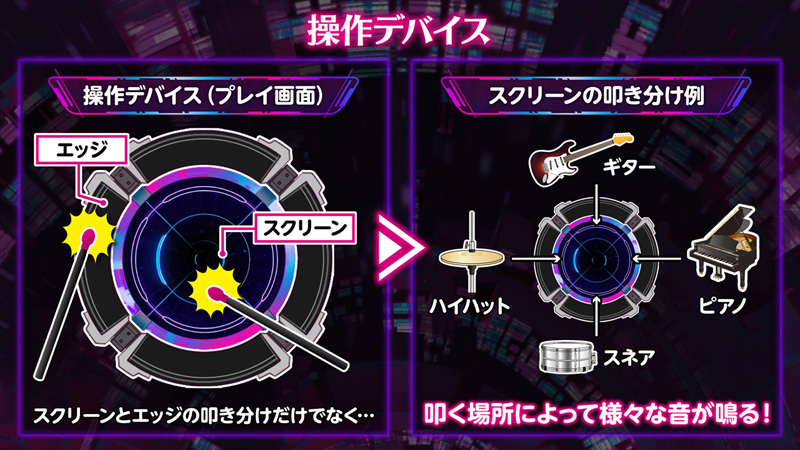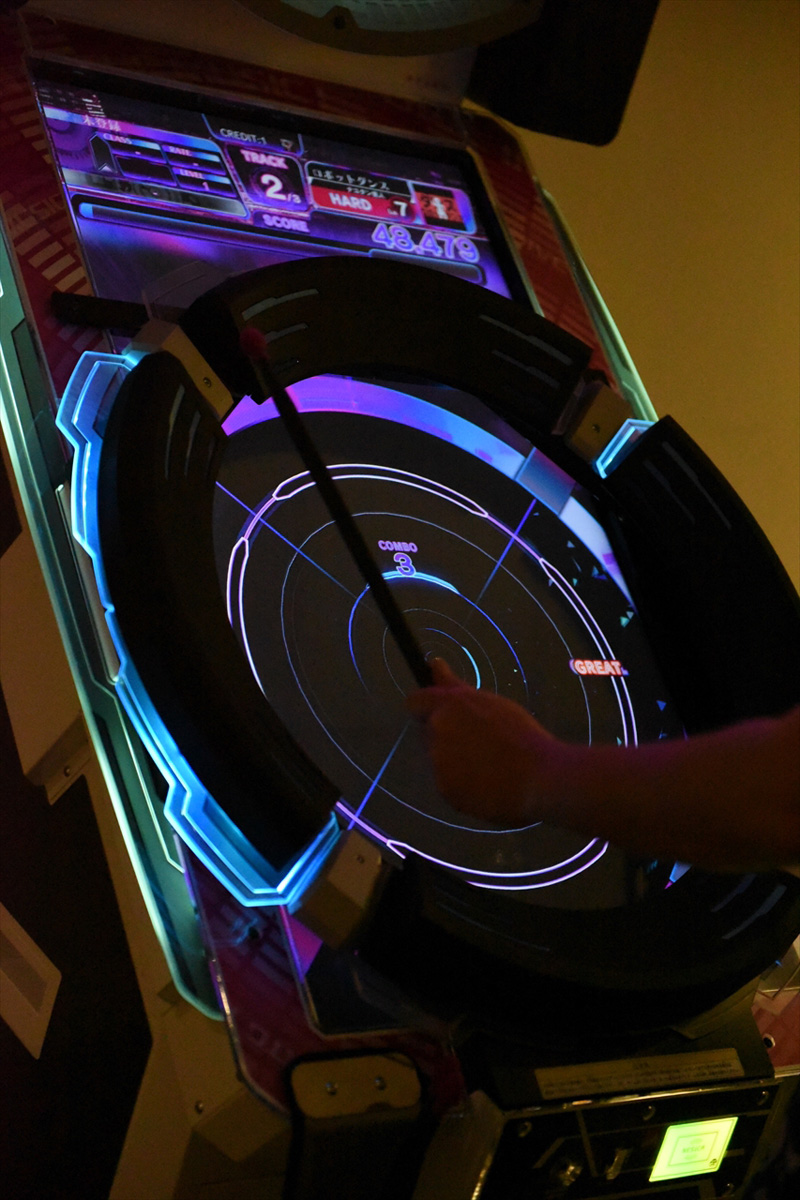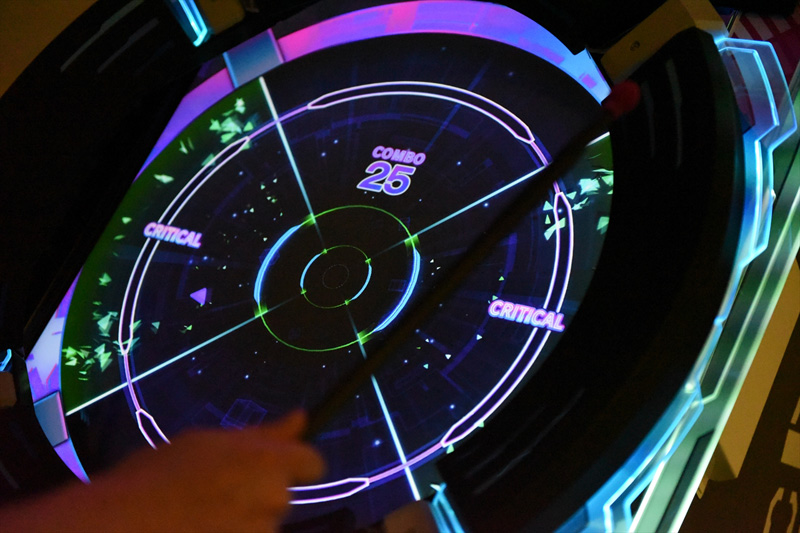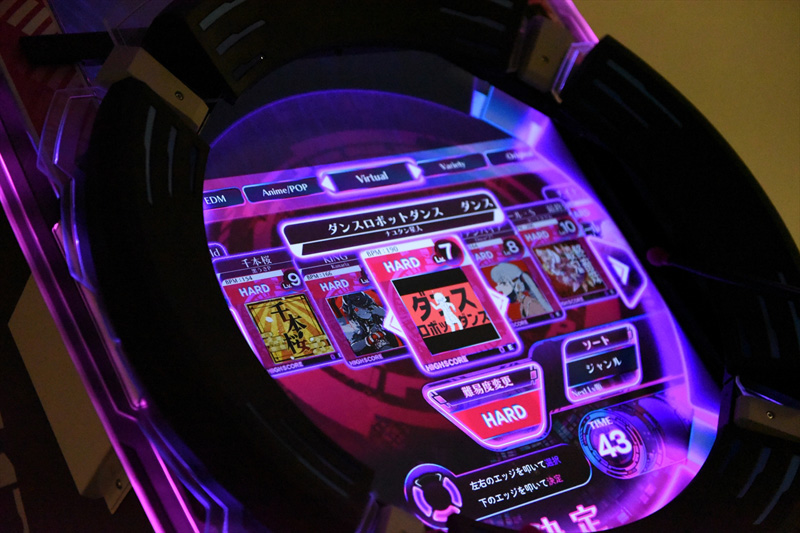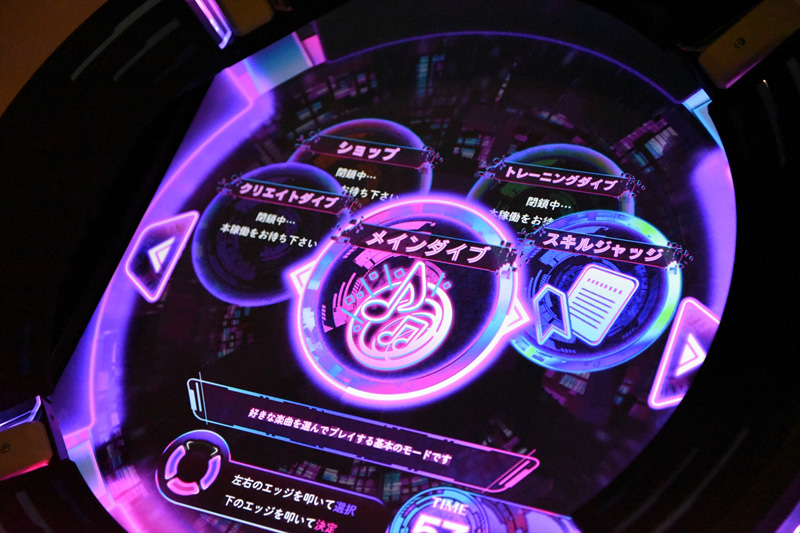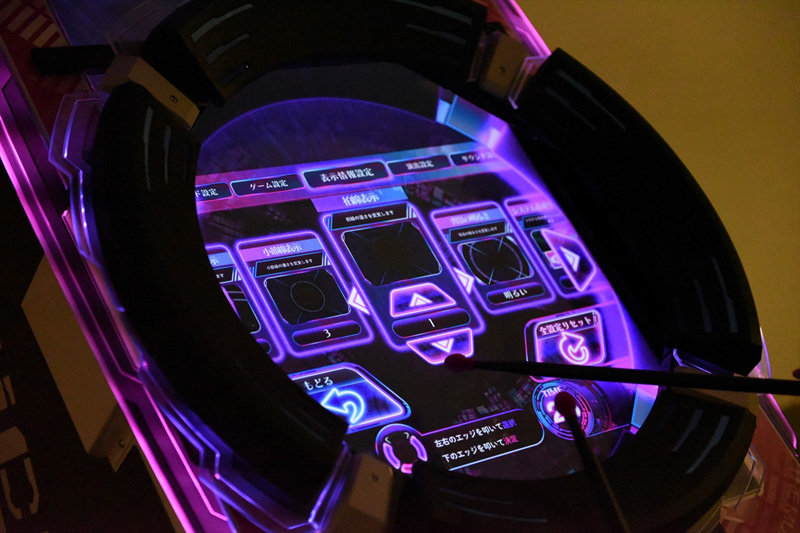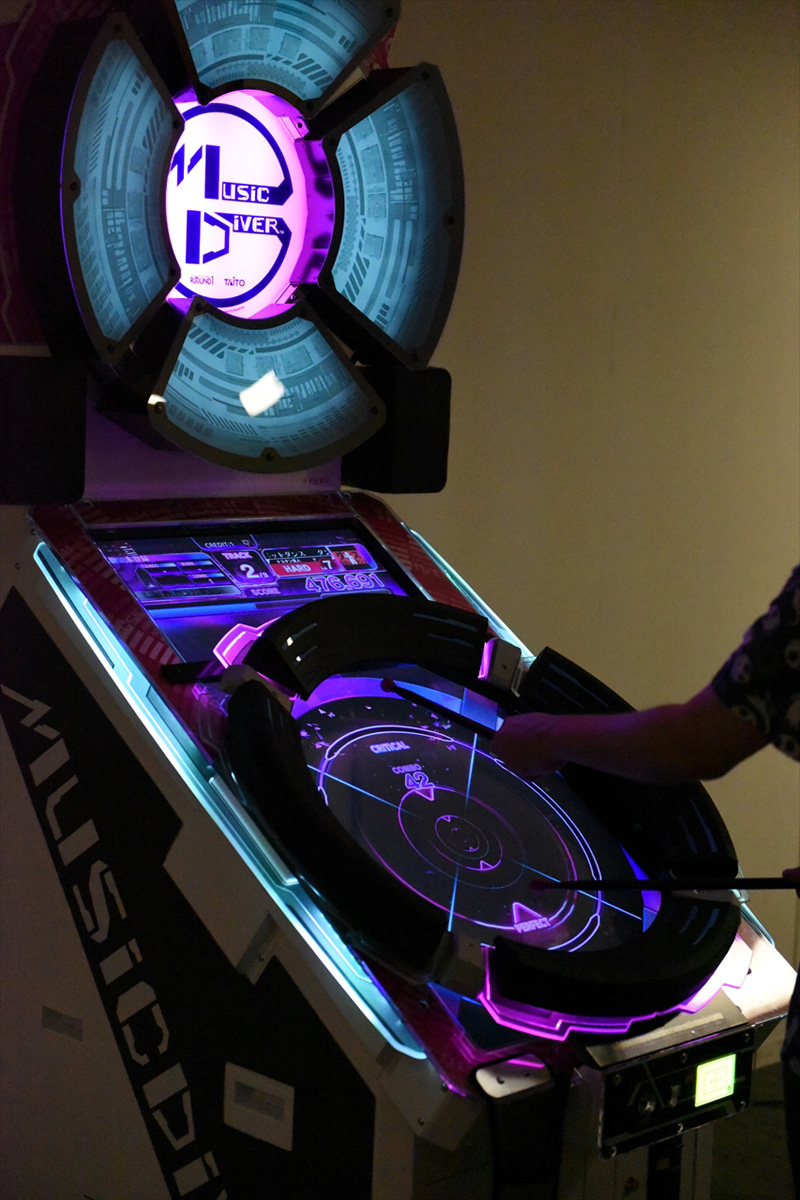 Pictures: 4Gamer