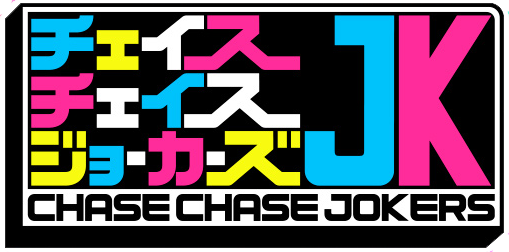 Chase Chase Jokers
is a new action game from
Konami
that will be released this year. A location test was held last week-end.
This a 3vs3 games where players are divided into two groups, humans and Oni, and compete against each other. The two teams compete in a maze to collect keys and avoid being touched by their opponents.
The cabinet features a thumbstick to control the characters. There are different kinds of buttons. 3 colored buttons: action, jump and slide. 1 big white: camera move and a "Skill" button to activate skills when you became an Oni There is a touch screen that allows chatting.
All the characters are fully voiced:
Hisako Kanemoto as Akagi Kagiko
Naomi Oozora as Aqua Chinon
Nozomi Yamamoto as Shinazu Miyomi
Aoi Yuki as PINE
------------------------------------------------------------------------------
Chase Chase Jokers
est un nouveau jeu d'action de
Konami
qui sortira cette année. Un location test a eu lieu le week-end dernier.
Il s'agit d'un jeu 3vs3 où les joueurs sont divisés en deux groupes, les humains et les Oni, et s'affrontent. Les deux équipes s'affrontent dans un labyrinthe pour collecter des clés et éviter d'être touchés par leurs adversaires.
La borne dispose d'une manette pour contrôler les personnages. Il y a également différents types de boutons. 3 boutons colorés : action, saut et slide. 1 gros bouton blanc : déplacement de la caméra et un bouton "Skill" pour activer les compétences lorsque vous êtes devenu un Oni. Il y a aussi un écran tactile qui permet de chatter.
Tous les personnages sont doublés:
Hisako Kanemoto: Akagi Kagiko
Naomi Oozora : Aqua Chinon
Nozomi Yamamoto : Shinazu Miyomi
Aoi Yuki : PINE
Website:
https://p.eagate.573.jp/game/chase2jokers/ccj/