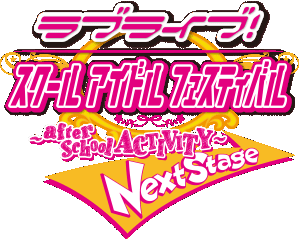 Love Live! School Idol Festival ~ after school ACTIVITY ~ Next Stage
is announced by
Square Enix
.
A new music notation "PLUS" will appear and in addition to the usual rhythm buttons, two new buttons named "decision button" and "cancel button" will be added.
A new feature allows the player to go out with members after playing!
2 location tests will be held:
-  from June 22 to 24 at Sega Akihabara Building 3, Round one Yokohama Station West Exit , The 3rd Planet Bivi Numazu.
-  from June 29 to July 1st at TAITO STATION Ikebukuro West Exit,
Nagoya Leisureland Sasashima, Namco Umeda.
Songs available:
♪ START: DASH !!
♪ Because it's a love storm
♪ In our present
♪ It is our miracle (with special music)
♪ WAO-WAO Powerful day! (With a special musical score)
♪ Spring romance (special music available)
♪ PSYCHIC FIRE (with special musical score)
【Aqours music】
♪ Is your heart shining?
♪ Aozora Jumping Heart
♪ Step! ZERO to ONE
♪ We know the future (with special musical score) (NEW)
♪ Energetic fully open DAY! DAY! DAY! (With special musical score) (NEW)
♪ Tricholico PLEASE !! (with special musical score) (NEW)
♪ Strawberry Trapper (with special musical score) (NEW)
Website: http://www.lovelive-sifacns.jp/