Theme of February is
Tatsujin
.
This shoot'em up was made by Toaplan and released by Taito in October 1988.
Tatsujin
is the original Japanese title, the game was released as
Truxton
in Europe and in the USA.
This sand coloured T-shirt is the first 1cc shirt to use Direct-To-Garment printing (as opposed to usual transfer).
You may order your T-shirt until Sunday February 21. Price is $33 shipped outside America ($25 within the USA).
Click here to order
.
(
Info about Tatsujin
)
------------------------------
Le thème du mois de février est
Tatsujin
.
Ce shoot'em up fut développé par Toaplan et publié par Taito en octobre 1988.
Tatsujin
est le titre japonais original, le nom
Truxton
a été utilisé en Europe et aux États-Unis.
Ce T-shirt de couleur sable est le premier T-shirt 1cc a utiliser l'impression directe sur textile (en opposition au traditionnel transfert).
Vous avez jusqu'au dimanche 21 février pour commander votre T-shirt. Le prix est de 33$ frais de port inclus (25$ en Amérique du nord).
Cliquez ici pour commander
.
(
Informations à propos de Tatsujin
)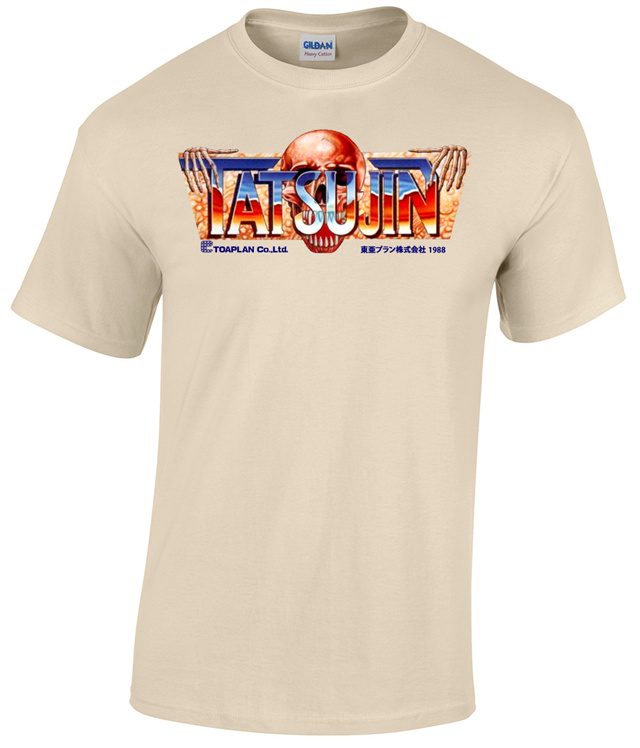 Front view